Posts for: February, 2019
By Beautiful Smiles Family Dentistry
February 14, 2019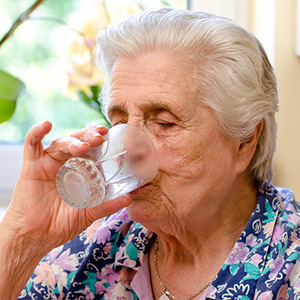 When your mouth is dry, you know it: that sticky, uncomfortable feeling when you first wake up or when you're thirsty. Fortunately, it usually goes away after you eat or drink. But what if your mouth felt like that all the time? Then, it's no longer an irritation—chronic dry mouth could also increase your risk of dental disease.
Chronic dry mouth occurs because of inadequate saliva flow. Saliva plays an important role in preventing dental disease because it neutralizes acid, which can cause the mineral content in tooth enamel to break down and lead to tooth decay. The mouth becomes more acidic right after eating, but saliva can restore its normal pH levels in about an hour—as well as some of the enamel's lost mineral content. Without saliva, your tooth enamel is at greater risk from acid.
While a number of things can potentially interfere with normal saliva production, medication is the most common. More than 500 prescription drugs, including many antihistamines, diuretics or antidepressants, can cause dry mouth. Cancer radiation or chemotherapy treatment and certain metabolic conditions like diabetes or Parkinson's disease can also increase symptoms.
If you are experiencing unusual dry mouth symptoms, see your dentist first for a full examination. Your dentist can measure your saliva flow, check your prescriptions and medical history, and examine your salivary glands for abnormalities. With this more accurate picture of your condition, they can help direct you to the most effective remedies and treatments for the cause.
If medication is the problem, you can talk to your doctor about alternative prescriptions that have a lesser effect on saliva flow. You can also drink more water before and after taking oral medication and throughout the day to help lubricate your mouth. Chewing gums or mints with xylitol, a natural alcohol sugar, can also help: xylitol helps reduce the mouth's bacterial levels, as well as stimulate saliva flow.
Easing your dry mouth symptoms can make your life more pleasant. More importantly, it can reduce your risk of future dental problems caused by a lack of saliva.
If you would like more information on dealing with chronic dry mouth, please contact us or schedule an appointment for a consultation. You can also learn more about this topic by reading the Dear Doctor magazine article "Dry Mouth: Learn about the Causes and treatment of this Common Problem."
By Beautiful Smiles Family Dentistry
February 04, 2019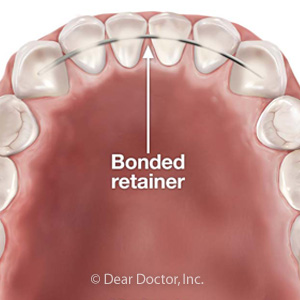 The braces are finally off! But to keep your new, straighter smile you'll need to wear a retainer for some time. That's because the same structural mechanism used to move your teeth could undo what we've just accomplished.
That mechanism resides in an elastic tissue called the periodontal ligament that lies between the teeth and the bone and attaches to both with tiny fibers. While the ligament holds the teeth securely in place, it also allows for slight movement in response to bite changes. Braces "pull" the teeth in the desired new direction, and the ligament responds.
But with that pressure gone after the braces' removal, a kind of "muscle memory" can set in that moves the teeth back towards their original positions. A retainer, a dental appliance worn on the teeth, exerts just enough pressure to "retain" or keep the teeth from regressing.
Retainers are effective, but the most common type has a feature that poses potential problems: it can be removed by the wearer. Because of this, less disciplined patients might be tempted not to wear their retainer as directed. There's also a higher risk of losing one and incurring additional cost to replace it.
But there is another type, the bonded retainer, which stays permanently in the mouth until removed by an orthodontist. It's composed of a thin piece of metal that's firmly attached to the back of the teeth with dental composite material. Not only does a bonded retainer solve the problems mentioned before, it also can't be seen from the outside like a removable retainer.
A bonded retainer does have one disadvantage: because it can't be removed, it can obstruct the teeth during brushing and flossing and require more effort. You won't have as much difficulty with a removable retainer keeping teeth and gums clean. You can overcome this disadvantage, though, with specialized tools like a water flosser or a floss threader to make hygiene easier.
To choose which type of retainer is best for you or your family member, have a talk with your orthodontist. And if you choose a bonded retainer and later have it removed, be sure to switch immediately to a removable one if your orthodontist advises. With either retainer, you'll be able to preserve that hard-earned smile for years to come.
If you would like more information on bonded retainers, please contact us or schedule an appointment for a consultation. You can also learn more about this topic by reading the Dear Doctor magazine article "Bonded Retainers: What are the Pros and Cons."